2021 China 30 gram Gold Panda MS-69 NGC SKU#269476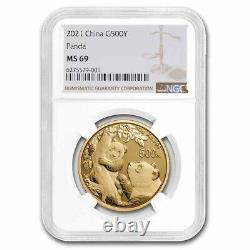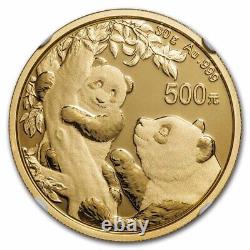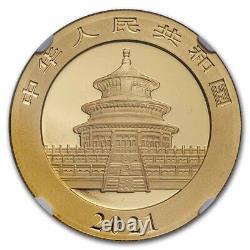 2021 China 30 gram Gold Panda MS-69 NGC - SKU#269476. Photos in this listing may or may not be stock photos. The photos are meant to be an indication of the product you will receive.
NGC encapsulation protects and guarantees the 69 condition of the coin. Obverse: Depicts the Hall of Prayer for Abundant Harvests in the Temple of Heaven in Beijing encircled by the phrase People's Republic of China in Chinese closed off by the year of issue, 2021. Reverse: Features an adorable scene of a mother and her young panda cub in a tree playing together. Guaranteed by the People's Bank of China. Protect your Gold Panda in style by adding an attractive display box.
Add this 30 Gram Gold Panda coin to your cart today! Enhance your Chinese Gold Panda collection with this highly sought after coin. Add the 2021 30 Gram Gold Chinese Panda coin to your cart today!
The giant panda, also known as panda bear or simply panda, is a bear native to south central China. It is easily recognized by the large, distinctive black patches around its eyes, over the ears, and across its round body.
The name giant panda is sometimes used to distinguish it from the unrelated red panda. Though it belongs to the order Carnivora, the giant panda's diet is over 99% bamboo. Giant pandas will occasionally eat other grasses, wild tubers, or even meat in the form of birds, rodents, or carrion.
The giant panda lives in a few mountain ranges in central China, mainly in Sichuan, but also in neighboring Shaanxi and Gansu. As a result of farming, deforestation, and other development, the giant panda has been driven out of the lowland areas where it once lived. While the dragon has often served as China's national symbol, internationally the giant panda appears at least as commonly. As such, it is becoming widely used within China in international contexts. When people think of China, they often think of the panda. The Chinese regard them as a symbol for friendship and peace. The panda has an important place in Chinese culture and history. In the Xizhou Dynasty, the panda was described as an invincible animal, as strong as a tiger. As a tribute to kings and emperors, a panda's pelt was often given during that time. During the Ming dynasty, the panda was often thought to have medical powers. The pelt supposedly could repel plague and prevent tumors.
This is not a photo of the actual item. 1,359 Item as described. Rec'd item, looking forward to doing business with again.