30.17 GRAMS Gold Bearing Peacock Ore RARE Australian Bornite Specimen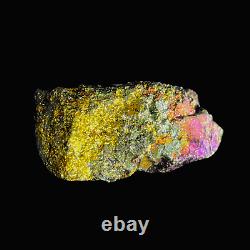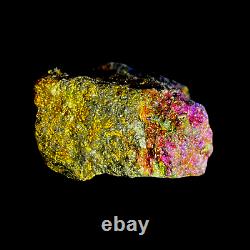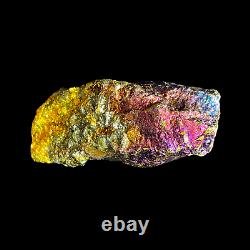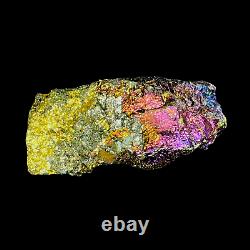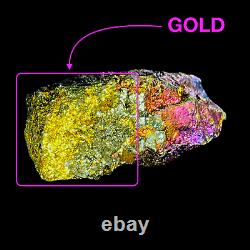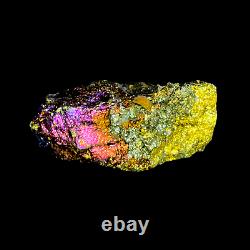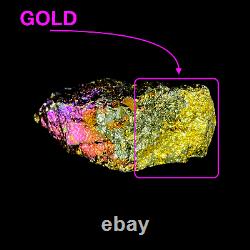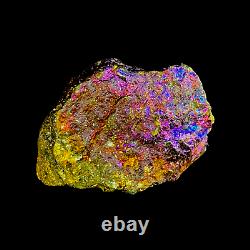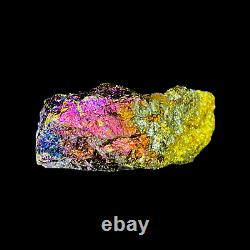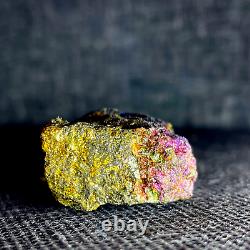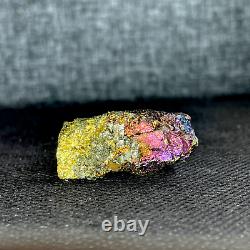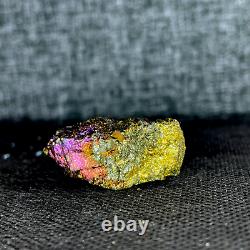 30.17 GRAMS / 1.06oz. This listing is for the sale of a rare gold-bearing piece of Bornite (Peacock Ore). This high-grade bornite has a. Chalcopyrite base, along with a concentrated cluster of high-grade minerals, including gold, silver, and various other other metals. The above specimen was sourced from a live gold and copper mining project located in Central Queensland, Austra. ALL ORDERS ARE DISPATCHED FROM VICTORIA. Faces of specimen have been scanned with our XRF Analyser. We confirm the following precious metals.. Gold (AU) Confirmed > High Purity. Please note that specialised cleaning and purification chemicals have been used on this specimen. This was to enhance the exposure of the beautiful, high-purity gold formations visible on the face of this quartz specimen. Areas with no gold coverage were not exposed to any specialised chemicals. We use specialised purification chemicals to extract'low purity' gold (with higher % of copper or silver) and other base metals (Zinc, Nickel, Lead). Due to the removal of lower purity gold and other metals, gold covering can be patchy. As such, please pay close attention to the photos above.
Copper, Platinum & Palladium & other Base Metals. We do not provide a list of identified base metals in our listings. PROTECT YOUR WEALTH AGAINST HIGH INFLATION. With Global Governments and Central Banks printing away the value of our currencies faster than ever, there has never been a better time to get your hands on a rare, gold-bearing collectable to protect your wealth against inflation! Throughout History Gold and Silver Have Both Proven To Be The Perfect Hedge.
Our ore is sourced from Australian mines located in Victoria's Golden Triangle and Central Queensland. The mines in both areas produce mineral-rich ore containing gold, copper, gems, crystals and silver.
Base metals in both locations include zinc, brass and iron. We are offering our customers with the possibility of purchasing natural Australian gold-bearing ore and/or beautiful mineralised specimens for greatly discounted price. All our specimens have been collected and stored with the likelihood that they contain pure gold. Therefore unless otherwise stated above , we do not (or can not) guarantee all contents within the specimen(s) you receive.
Delayed and/or ignored payments obstruct the processing of all customer orders and will not be tolerated. Australia Post - MyPost Business (Regular or Express). Carrier: Australia Post - MyPost Business Regular.
Customers who treat our team with honesty and respect can expect to be treated in the same way. Please remember that our support team are here to help. THANK YOU FOR SUPPORTING AUSTRALIAN BUSINESS. The item "30.17 GRAMS Gold Bearing Peacock Ore RARE Australian Bornite Specimen" is in sale since Saturday, October 30, 2021.
This item is in the category "Coins\Bullion\Gold\Nugget".mining" and is located in Red Hill, Victoria. This item can be shipped worldwide.
Region of Origin: Australian
Weight:: 30.17 GRAMS / 1.06oz
Composition: Gold