2021 $20 gold coin 100th anniversary of Canada Coat of Arms Queen Elizabeth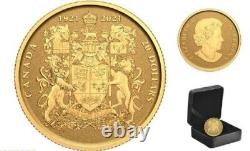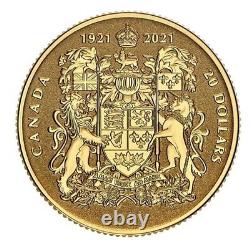 Only 3000 minted this is a very popular coin. The coat of arms created for Canada in 1921 is re-created in extraordinary detail on this 99.99% pure gold coin, which was struck on an innovative thin, wide blank. These are the Arms that, a century ago, were an expression of the Dominion of Canada's newfound sense of self; and today, they are a symbol of nationhood that proudly recounts our history and our journey together. Canada's original Coat of Arms, resplendent in 1/10 oz.
Don't miss out - order today! Celebrate the 100th anniversary of the Arms of Canada with this pure gold coin, which features the original design from 1921. Every component of Canada's coat of arms tells a story, so we went to great lengths to reproduce even the smallest details on this 20 mm coin. STRUCK ON A THIN BLANK! This is the latest piece struck on a thin 99.99% pure gold blank that gives you the gold content of a 1/10 oz. Coin, but with a 25% larger diameter - more space for the engraved art!
Part of a yearlong celebration in 2021, this 99.99% pure gold coin is our most affordable all-gold tribute to Canada's coat of arms on its 100th anniversary. The Royal Canadian Mint certifies all of its collector coins.
Your coin's reverse features a detailed reproduction of the original Arms of Canada proclaimed by King George V on November 21, 1921. At the base of the Coat of Arms is a garland of floral emblems-the English rose, the Scottish thistle, the Irish shamrock and the French lily-and a scroll bearing the motto. A MARI USQUE AD MARE. At the centre is the shield; its upper quadrants feature the three lions of England, the lion of Scotland, the Irish harp of Tara and the fleurs-de-lis of Royal France, while the bottom portion features a sprig of three maple leaves. The supporters are based on those of the Royal Arms of the United Kingdom: to the left of the shield, the lion of England holds the Royal Union Flag, while on the right, the unicorn of Scotland carries the flag of Royal France. Above the shield is the royal helmet draped with mantling. Atop the royal helmet is the crest set on a wreath of twisted cloth, and is comprised of a crowned lion holding a maple leaf in its right paw. Above the crest is the imperial crown that represents the monarch as Canada's Head of State.
The reverse also features the engraved word "CANADA, " the commemorative dates "1921 - 2021", and the face value, "20 DOLLARS". The obverse features the effigy of Her Majesty Queen Elizabeth II by Susanna Blunt.